SPEAKER HP DHE-6000
Special Price LKR 3150.00
Regular Price:
1 Year Warranty

Islandwide Delivery Available
HP-DHE-6000 | HP PART # - BYJ91AA
RGB MULTIMEDIA ENTERTAINMENT SPEAKER
HEAR THE DIFFERENCE
Active electronic
Active electronic equalization balances low, mid, and high frequencies for more natural tone and clarity.
Built-in new professional smart chip, fine-tuned data algorithm to achieve powerful entertainment sound effects, compatible with movies and music, and enjoy musical entertainment.
RGB Backlight
Cool RGB light ring, bright and sharp eyes simple and smart eye appearance with clear sound effects, the moment you turn on the audio, let you enter the exciting world of entertainment, and the cool lights make entertainment more sensational.
Natural tone and clarity
The low-frequency amplifier designed effectively enhances the low-frequency effect and releases a powerful bass output.
The sound is loud and full, and you can hear the inner heart,
full of volume, and enjoy the stereo bass effect.
Full-range speaker unit surging sound effects, restore high-quality sound effects, cooperate with the cavity space, the sound unit and other institutions cooperate with each other, the sound effects are full of moving music, movies, entertainment and easy to control Stereo left and right channels to help entertain a new generation.

Stereo left and right stereo channels to meet entertainment needs, enhance the sense of space and depth, high resolution, clearly distinguish between near and far, listen to the sound position, cater to the new generation.
Shock explosive force, small volume, and large energy
Convenient and compact volume can be placed randomly without occupying space.
The internal acoustic structure of Hi-level shock sound quality can explode amazing energy to shock the sound field to fill the room and enter the battlefield at any time.
3D Surround
Immerse yourself in 360° surround sound
The 2.0-channel speaker system is as big as the aircraft roaring and exploding, and as small as the dream of whispering butterflies and wings, all can be clearly heard in the ears, just like being on the scene.
Anti-magnetic shielding
Anti-magnetic shielding design, built-in anti-magnetic chip, positive and negative electromagnetic cancellation, anti-interference, easy to control different use scenarios.
In-line remote control
In-line remote type roller volume control, free to control the volume, convenient operation, one step faster when fighting the enemy, does not affect the operation.
High glass painted outer surface
Wide compatibility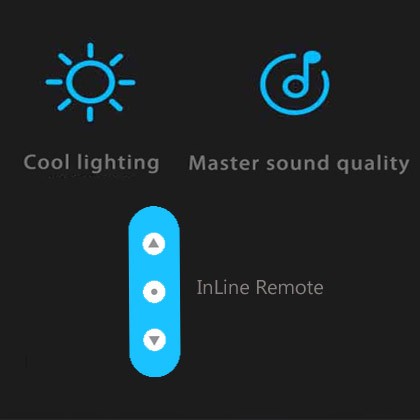 Rated power: 2 x 3 Watts

Frequency response: 150 Hz - 20KHz

Sensitivity: 85 dB +- 3dB

Impedance: 4 ohm x 2

Speaker size : 52mm

Backlight: LED

Drive unit: 2.5 inch x 2

Connectors: 3.5 mm jack (audio), USB (Backlight Power)

Power supply: DC 5V/1A USB

Cable Length: 1.1 meter

In-Line (wired) Remote Controler for Volume adjustments

Weight: 445g

Size: 72 x 82 x 120mm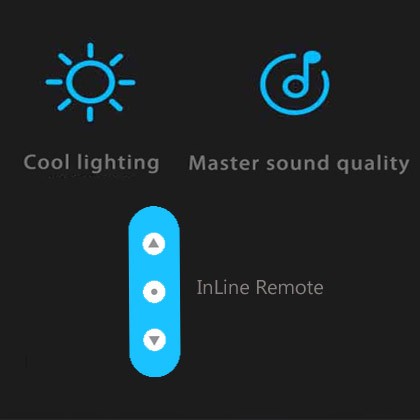 These USB speakers make for an easy setup.
Connect the USB plug to the port on your Computer | TV, etc., or to a USB adaptor and the 3.5mm jack to an audio source.